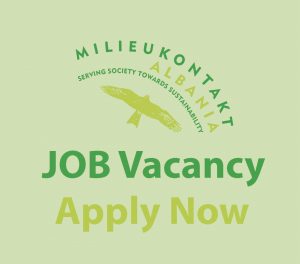 Milieukontakt Albania (MIA) has 20 years of experience working with civil society on environment, nature and sustainable development as well as with authorities dealing with these issues in Albania.
The long-term goal is "to develop a strong and democratically organized environmental NGO movement. This means a movement that has a high visibility in society, is able to raise public awareness and is capable of playing an important role in policy- and decision-making processes, on a local, national and international level"
In all programs Milieukontakt Albania conducted, three elements were leading: building capacities, involving citizens and solving environmental problems.
We provide training, coaching, support and advice for organization working for sustainability.
We stimulated and supported the involvement and empowerment of citizens and developed processes of participative strategy development and decision making.
We connected these processes to concrete solutions for environmental problems.
The role of the Project Coordinator is to work with other members of the MIA team in conceptualising, implementing and reporting on projects in all areas of MIA's work, with a specific focus on capacity-building, training and networking activities.
Responsibilities include:
Coordinating MIA's environment projects with national and local partner organisations
Coordinating the development of the MIA's projects
Developing and implementing other projects in line with the priorities set by the MIA Board
Organizing networking events
For the above-mentioned projects, the project coordinator is responsible for the smooth running of all the steps and aspects of the project cycle, such as:
Compliance with MIA's project implementation rules
Ensuring the relevance and quality of the projects, with advice from MIA management
Budget implementation monitoring and reporting
Electronic and paper reporting of projects outputs (agendas of events, photos, participants lists, etc.)
Dissemination of project outcomes, in coordination with MIA staff responsible for communications
Regular contact with and coordination between the stakeholders (such as project partners, designers, printers, etc.)
Regular reporting to the MIA management on the implementation status of projects
Qualities and experience
Master degree in Environment, Social Sciences, Political Sciences, Economy or related field.
2-5 years of experience in project implementation and coordination,
Interest and experience in the development of training activities, networking and capacity-building projects.
Very good in English (written and oral skills);
At least with numbers and with online tools, such as online educational tools, websites, documents sharing platforms, etc.
Able to function and adapt to changing intercultural and social conditions
Experience and judgment working both collaboratively and independently
Proactivity and sense of initiative
Attention to detail and organisational skills
Interest for current Green issues and debates,
Availability to travel occasionally and work outside regular office hours
Any expertise in fundraising for non-profit organisations is an asset
Milieukontakt Albania offers:
A full-time (40h/week) position, starting with a 3 months-contract and with a long-term perspective
A salary in line with non-profit sector based on experience
An open, positive and engaging working atmosphere
How to apply:
Interested candidates are requested to submit their application by attachment to an e-mail to  office@milieukontakt.org until 16/03/2020.
The application must include a cover letter and a CV outlining the motivation for this position at MIA, both comprised in a single pdf document.
The interviews and practical assignments for the position will take place in MIA Office in April 2020. In case of questions, please do not hesitate to send an e-mail to office@milieukontakt.org.
Only shortlisted candidates will be contacted.
The deadline for submission of applications is March 16, 2020.